Adriano Celentano Show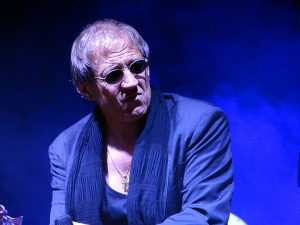 Adriano Celentano is world famous and easily recognised by his low husky voice and his unique personality both in movies and on stage. This charismatic Italian is talented in so many ways: he is a movie director and as well as a screenwriter, he works as a TV presenter and a video editor and moreover he is a fantastic singer. Is there anybody else quite as well known in the world of theatres, movies and shows? Celentano is absolutely incredible at everything he does.
There are multiple tributes and doppelgängers to Celentano these days, but the most well known is Celentano Show with Adolfo Sebastiani.
The official website of Adriano Celentano' s tribute that Adolfo Sebastiani lives up to the looks and the charm of the "talented bastard". The show programme of Adolfo Sebastiani has quickly become popular in Italy as well as abroad, it has also been approved by Adriano Celentano himself.
Adriano Celentano hits & videos
Adriano Celentano Tribute discography
Phenomenal music of the legendary Adriano Celentano performed by Adolfo Sebastiani. Adriano Celentano sees Adolfo Sebastiani as a 20 years younger version of himself. This merge of 2 personalities in 1 allows for the legend of Adriano Celentano to live on forever.
There is no need for the client to listen to all the songs to be able to choose some for their corporate party or a wedding. During his 50 years of his career Adriano Celentano produced 42 albums. You just have to fully trust the double of Adriano Celentano in performing the best of the best songs.
You can book Adriano Celentano tribute performed by Adolfo Sebastiani and have a real opportunity to listen to the legendary songs on this Celentano official website.
Read more
Book Adriano Celentano Tribute
Show programme Adolfo Sebastiani's show varies from 45 mins to 1.5 hours the half playback or with a live band. The length of the performance of the tribute of Adriano Celentano depends on 2 factors:
1. The client's preference
2. The guest's desire to hear more of their favourite legendary songs.
Price Celentano Tribute
The cost of the show depends of the country, city, date and the type of the event. The fee for the official tribute Celentano – Adolfo Sebastiani  show that lasts over an hour with a band will vary greatly from a shorter playback show.
Availability & Price